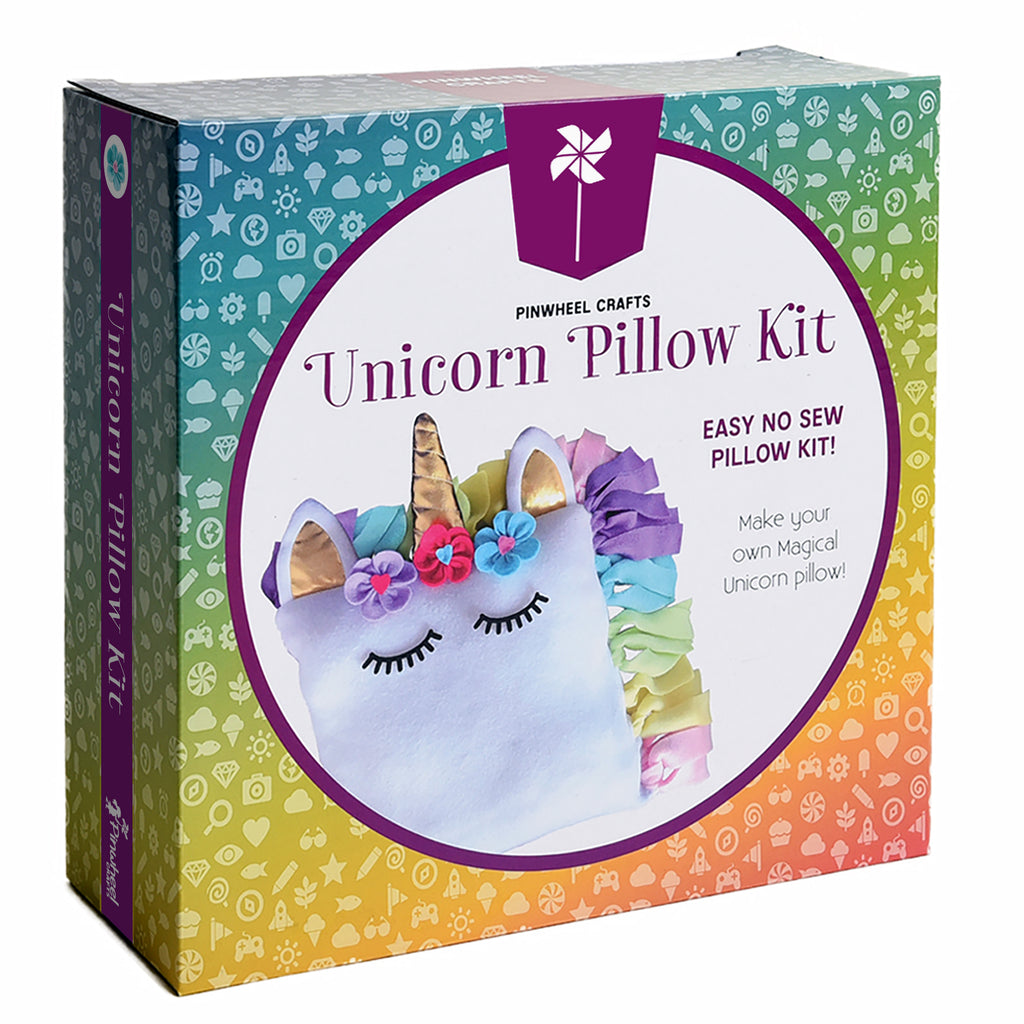 Unicorn Pillow Kit
⭐️
⭐️⭐️⭐️⭐️
5.0
1,377 REVIEWS
"My daughter received this as a gift. The kit includes everything you need to make the pillow & she was able to put it together by herself! She LOVES unicorns & this was perfect for any little one! Totally recommend!"
-Brandy L.
Verified Purchase
Retail Price: $34.95
Your Price (30% Discount Applied):
"So cute! This was so fun to do with my girls. They have been obsessed with unicorns & wanted to try the Unicorn Pillow Kit! They were able to do most of it by themselves. Great quality and a nice sized pillow. Everything is true to picture. Instructions were easy to do. Great Kit!"
-Becky S. Verified Purchase
NON-STOP UNICORN FUN - Looking for thoughtful birthday gift ideas for 6-12 year old girls? Let your little ones create their very own Unicorn Pillow with little to no supervision.
INSTANT SMILES AT BEDTIME - This unicorn pillow will become your little girls favorite pillow when it comes to bedtime. An adorable decoration that adds an enchanting ambience to any bedroom!
KEEP YOUR KIDS ENTERTAINED - Keep your kids busy for hours! Ideal for rainy afternoons, lazy weekends, sleepovers or during summer break. It's also a fun craft to do as a family.
EASY TO MAKE - DIY craft kit comes with everything you need to make your very unicorn pillow. Includes step by step instructions.
INSPIRE IMAGINATION - Our fun craft kits are designed to nurture creativity and let kids explore their imagination. Our unicorn pillow is just waiting for your expression!
1. Choose 10 colored tassels and tie together top of pillow.
a. Insert tassels through small openings along edge of pillowcase
b. Tie a square knot
2. Stuff your pillow with as much, or as little, stuffing you prefer.
3. Choose 10 more tassels and tie together side of pillow.
4. Once your pillow is stuffed and fully tied together, choose the location for your flowers and eyelashes
5. Simply peel the backing off of the flowers and eyelashes. Stick them to the pillow wherever you prefer.
We challenge you to unleash your imagination and embrace your creative side!

Whether for a party, a rainy day activity, or just a way to make memories with your child, crafting is the perfect way to liberate your inner creator.
At Pinwheel Crafts, we believe crafting should be kept simple and be a stress relieving activity. Consequently, instead of scrounging around the house or visiting multiple craft stores to gather supplies, you can find everything you need to create a beautiful Unicorn Pillow in our Unicorn Pillow Kit.
This easy and fun craft is a wonderful opportunity to spend some quality time with your family. And encourage some fun time away from mobile devices!
I purchased this craft kit not knowing what to expect. I must say that my 8-year old granddaughter loved putting this together. The items were packaged exceptionally well with every piece of the pillow packaged separately. The instructions were easy to follow. It took about an hour to put the pillow together. She was so pleased with her unicorn pillow that she takes it everywhere she goes!
- Willow D. Verified Purchase

Explore the Unicorn Power
This Unicorn Pillow Kit from Pinwheel Crafts is a fun way for kids to explore the imagination of the unicorn world. If unicorns are one of your child's favorite things, this cute craft kit will make their day.
Crafty Inspiration
Brimming with magical craftiness inspiration, let your child's creativity and imagination take over. Enjoy seeing the look of pride and joy on their faces at creating something that's one-of-a-kind.
Have Some Unicorn Fun
Need an activity to keep your kids busy at your next birthday party, sleepover, family reunion or on a rainy day in the classroom? This easy and fun craft is a wonderful opportunity to spend some quality time with your family. And encourage some fun time out from mobile devices!
At Pinwheel Crafts, we are committed to creating simple, hands-on crafts that allow kids to focus on creativity, develop a love of discovery, and learn that fun doesn't depend on wifi access. In fact, many studies show that participating in arts and crafts from a young age can help children develop fine motor skills and gives teens and adults an outlet for stress.
From our origami kits to our glitter slime and our fridge magnets to our pendant jewelry kits, our crafts inspire creativity in kids and kids-at-heart. We challenge you to unleash your imagination and embrace your creative side!
I bought this kit for my grandchild. She really enjoyed creating her own design on the pillow and was so thrilled to show off her new unicorn pillow she made! Would recommend for craft day & enjoyed seeing how excited she was after the project was finished. Really cute & worth the money.
- Diane R.
Verified Purchase
Check out our other DIY craft kits that are similar to the Unicorn Pillow Kit!
© Copyright 2022. All rights reserved to Pinwheel Crafts LLC.