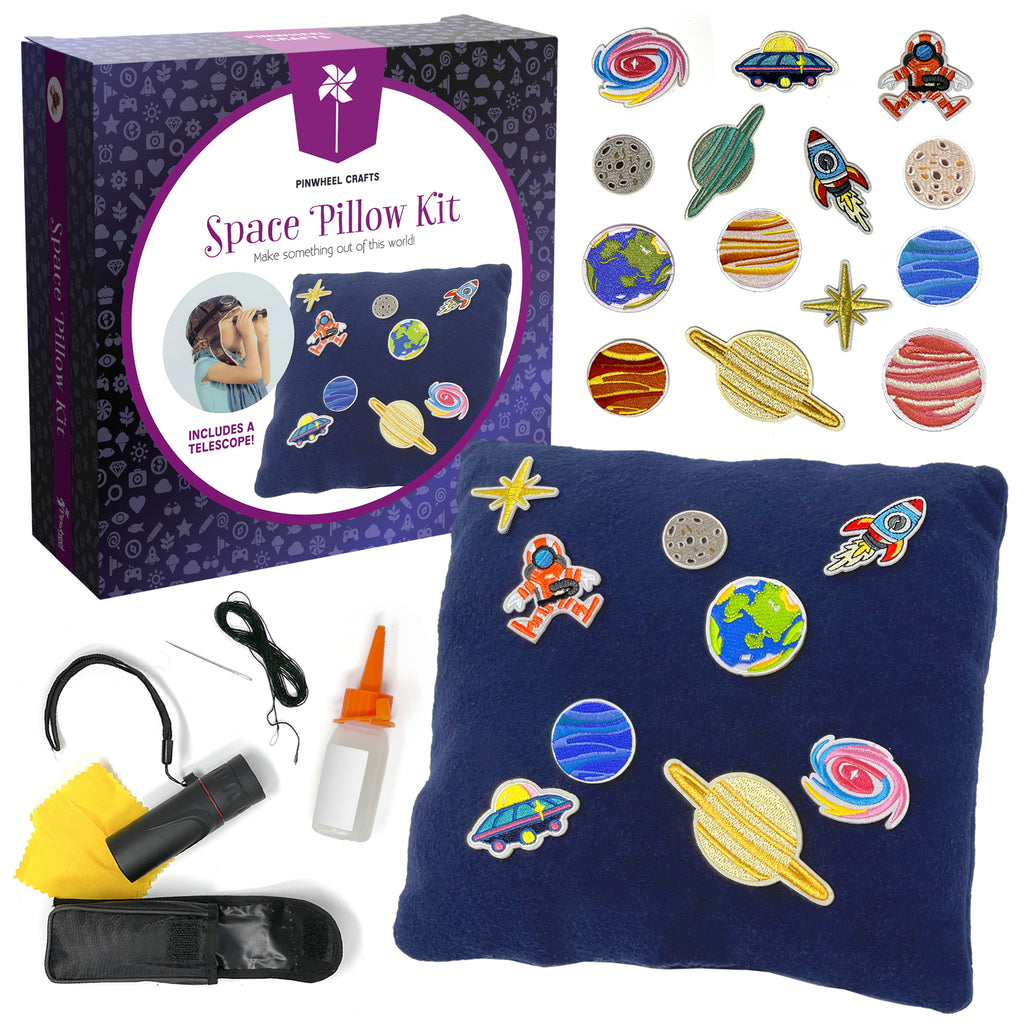 Space Pillow Kit
⭐️
⭐️⭐️⭐️⭐️
5.0
1,377 REVIEWS
"This space pillow kit is amazing! My daughter absolutely loved it and had a blast putting it together. The space-themed patches are so cute and the pillow is incredibly soft and comfortable. She also loves using the included telescope to gaze at the stars from her bed. This is a great gift for any kid who loves space."
 -Alice C.
Verified Purchase
Retail Price: $42.95
Your Price (30% Discount Applied):
"My daughter has been obsessed with space for as long as I can remember, so I knew this DIY pillow kit would be a hit. She had so much fun sewing the patches onto the cover and was so proud of her finished pillow. The quality of the pillow is top-notch and it's definitely a great gift idea for any young space enthusiast."
- Eleanor S. Verified Purchase
SPACE AGE DIY PILLOW KIT - The ultimate pillow for kids who love space, this is a kid-friendly do-it-yourself craft that comes with 14 space-themed patches they can sew right onto the cover to create a totally out of this world unique pillow design.
ULTRA-SOFT AND COMFORTABLE KID'S PILLOW - Especially comfy for gazing up at the stars, taking naps in the car, or lounging in bed these cute sewing pillow covers are made with high-quality fabric and filled with premium polyfill stuffing for true comfort.
FUN AND INTERACTIVE ARTS AND CRAFTS - This DIY pillow kit for kids is a smart way to inspire creativity and big imaginations. A hands-on arts and crafts experience, kids will love making their own creation a part of their everyday home and travel life.
LET THEM VIEW THE STARS ABOVE - Each of our DIY pillow covers also comes with a complimentary handheld telescope, complete with strap, case, and cleaning cloth, so your little one can lie under the stars and look out and see the celestials above.
MUST-HAVE HOLIDAY GIFT - Great for boys and girls who love space, astronauts, and the planets our DIY pillow case makes a wonderful gift for birthdays, Christmas, or just to say I love you. Get one for your son, daughter, grandkid, niece, or nephew!
SEND YOUR LITTLE DREAMER INTO THE STRATOSPHERE WITH A DIY PILLOW KIT THAT LETS THEM CHART THEIR OWN PATH THROUGH THE COSMOS.
If you're looking for a fun way to give your kids a hands-on, early learning arts and crafts project while still rewarding them for their creativity, nothing beats the interactive fun found in a Pinwheel Crafts Space Pillow Kit. An all-in-one "sew your own pillow" bundle, we've packed this space-themed set with a soft pillow cover, plush polyfill, and all the accessories you'll need to customize it to your little space adventurer. You could say it's the perfect DIY project for every stargazer ready to put down the video games and take off into space.
All-in-One Sewing Kit for Kids
Our DIY pillow covers come with everything you'll need to sew your own pillow case including a Galaxy Blue pillowcase, ultra-soft polyfill stuffing, fabric glue, needle, thread, and simple step-by-step instructions. Not to mention the 14 colorful and exciting space patches! Everything you'll need to help them create a one-of-a-kind pillow they can use at home and on all their big adventures.
Product Details:
Pinwheel Space Pillow Kit for Kids

Custom DIY Sewing Application

Unique Space Themed Patches (14)

Soft, Comfortable Pillow (Polyfill Stuffing)

Step-by-Step How-To Instructions

Gender Neutral (Boys and Girls)

Designed for Ages 5+

Includes Complete Sewing Accessories
Give your child a comfortable, custom-sewn pillow with cute and colorful planetary-themed patches sure to inspire their imaginations and creating out-of-this-world dreams.
1.  Fill your pillow with as much, or as little, stuffing as you prefer.
2. Using the needle and thread provided, sew the base of the pillow shut using a ladder stitch.
3. Once you have stuffed and sewn your pillow, choose the patches you want to use to make your custom space scene. Attach them using the fabric glue provided.
4. Enjoy!
We challenge you to unleash your imagination and embrace your creative side!
Whether for a party, a rainy day activity, or just a way to make memories with your child, crafting is the perfect way to liberate your inner creator.
At Pinwheel Crafts, we believe crafting should be kept simple and be a stress relieving activity. Consequently, instead of scrounging around the house or visiting multiple craft stores to gather supplies, you can find everything you need to create a beautiful Unicorn Pillow in our Unicorn Pillow Kit.
This easy and fun craft is a wonderful opportunity to spend some quality time with your family. And encourage some fun time away from mobile devices!
I purchased this pillow kit as a gift for my niece and she absolutely loved it! The patches are so cute and the pillow is incredibly soft and comfortable. The fact that it comes with a handheld telescope is such a fun bonus. This is definitely a great gift idea for any kid who loves space.
- Olivia D. Verified Purchase
Explore the Cosmos
This Space Pillow Kit from Pinwheel Crafts is the perfect way to let your child explore their imagination and creativity while discovering the wonders of space. With 14 space-themed patches to choose from, your child can design a pillow that is truly unique and out-of-this-world.
Interactive Crafting Project
Looking for a fun and interactive activity for your kids that doesn't involve a screen? Not only will your child have a blast sewing on the patches and designing their own pillow, but the finished product will become a part of their everyday home and travel life.
Look to the Stars
Each DIY pillow cover also comes with a complimentary handheld telescope, complete with strap, case, and cleaning cloth. This telescope allows your little one to lie under the stars and look out at the celestial bodies above - a perfect way to inspire their curiosity about the universe.
At Pinwheel Crafts, we are committed to creating simple, hands-on crafts that allow kids to focus on creativity, develop a love of discovery, and learn that fun doesn't depend on wifi access. In fact, many studies show that participating in arts and crafts from a young age can help children develop fine motor skills and gives teens and adults an outlet for stress.
From our origami kits to our glitter slime and our fridge magnets to our pendant jewelry kits, our crafts inspire creativity in kids and kids-at-heart. We challenge you to unleash your imagination and embrace your creative side!
Check out our other DIY craft kits that are similar to the Unicorn Pillow Kit!
© Copyright 2022. All rights reserved to Pinwheel Crafts LLC.