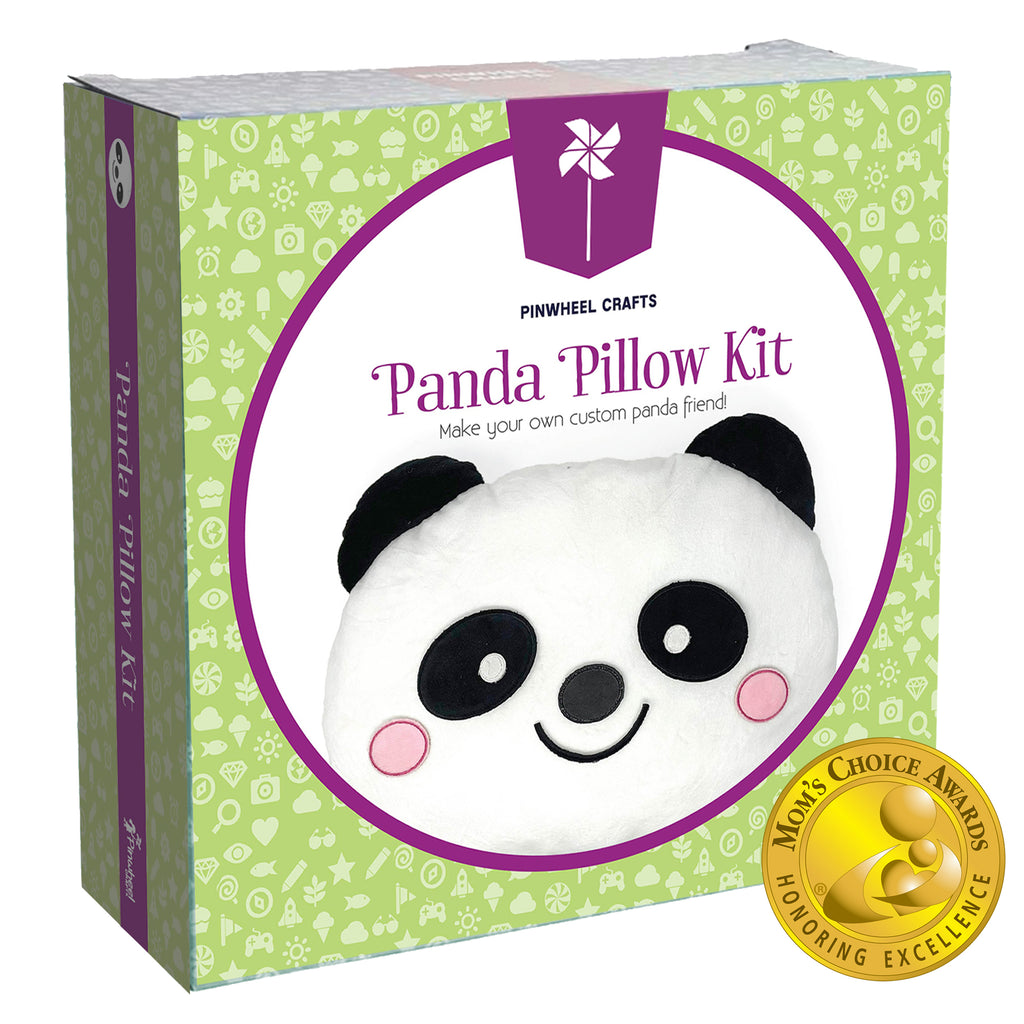 Panda Pillow Kit
⭐️
⭐️⭐️⭐️⭐️
5.0
3,758 REVIEWS
"My daughters loved picking out the elements for personalizing their Panda pillows. They loved making their own pillows and love that they could do it on their own! They now sleep with their pillows every night!"
 -Melanie K.
Verified Purchase
Retail Price: $33.95
Your Price (30% Discount Applied):
MAKE YOUR OWN STUFFED PANDA BEAR PILLOW - With this fun kids crafts sewing kit for kids 7-12.
COMPLETE CRAFT KIT - All the craft supplies you need to create your panda bear stuffed animal cuddle pillow! Kids arts and crafts set includes: pillow case with panda ears, 15 felt pieces, needle and thread, polyfil stuffing, fabric glue and step-by-step instructions.
FUN KIDS ACTIVITIES - Create a fun panda throw pillow with this art kit for boys and girls ages 6-8! Perfect indoor arts & crafts activity on a rainy day to keep your kids busy.
PLUSH CRAFT KIT - Panda stuffed animal sewing kit makes a cute kids decorative pillow for kids and adds great panda decor to any room!
GREAT GIFT IDEA - Perfect gift for any creative child! This diy craft is a great sewing kits for kids 9-12, gifts for girls, and crafts for boys 6-8. Create cute stuffed animals using your new art kit.
1. 
Start off by filling your pillow with poly-fil stuffing
2.
Using needle and thread, sew the pillow base with a ladder stitch
3.
Design your own panda pillow face. Attach using the fabric glue
4.
Show what you've made and enjoy
We challenge you to unleash your imagination and embrace your creative side!

Whether for a party, a rainy day activity, or just a way to make memories with your child, crafting is the perfect way to liberate your inner creator.
At Pinwheel Crafts, we believe crafting should be kept simple and be a stress relieving activity. Consequently, instead of scrounging around the house or visiting multiple craft stores to gather supplies, you can find everything you need to create a cute Panda Pillow in our Panda Pillow Kit.
This easy and fun craft is a wonderful opportunity to spend some quality time with your family. And encourage some fun time away from mobile devices!
Decided to give my children some time off of their tablets and enjoy a little time playing together. Bought two of these kits and was surprised to see that they include exactly everything!!
It was simple but at the same time fun and entertaining. They spent the whole evening choosing what to put on the panda's face and definitely enjoyed spending time with each other.
I would definitely recommend, especially if you need some time to relax and distract the kids.
Have Some Fun
Need an activity to keep your kids busy at your next birthday party, sleepover, family reunion or on a rainy day in the classroom? This easy and fun craft is a wonderful opportunity to spend some quality time with your family. And encourage some fun time out from mobile devices!
Spend time with your
favorite person!
This Panda Pillow Kit from Pinwheel Crafts is a fun way to spend time with the kids to explore and interact.
If your child likes animals this cute panda craft kit will be so much fun to decorate their rooms.
At Pinwheel Crafts, we are committed to creating simple, hands-on crafts that allow kids to focus on creativity, develop a love of discovery, and learn that fun doesn't depend on wifi access. In fact, many studies show that participating in arts and crafts from a young age can help children develop fine motor skills and gives teens and adults an outlet for stress.
From our origami kits to our glitter slime and our fridge magnets to our pendant jewelry kits, our crafts inspire creativity in kids and kids-at-heart. We challenge you to unleash your imagination and embrace your creative side!
Enjoyed this fun little craft with my 5 year old nephew. He usually only wants to watch tv all day, so I was looking for a way to spend some quality time with him. I was nervous that it was going to be a complicated for him but it was so easy and fun to put together! Looking forward to trying other kits when I come visit him again.
Check out our other DIY craft kits that are similar to the Panda Pillow Kit!
© Copyright 2022. All rights reserved to Pinwheel Crafts LLC.