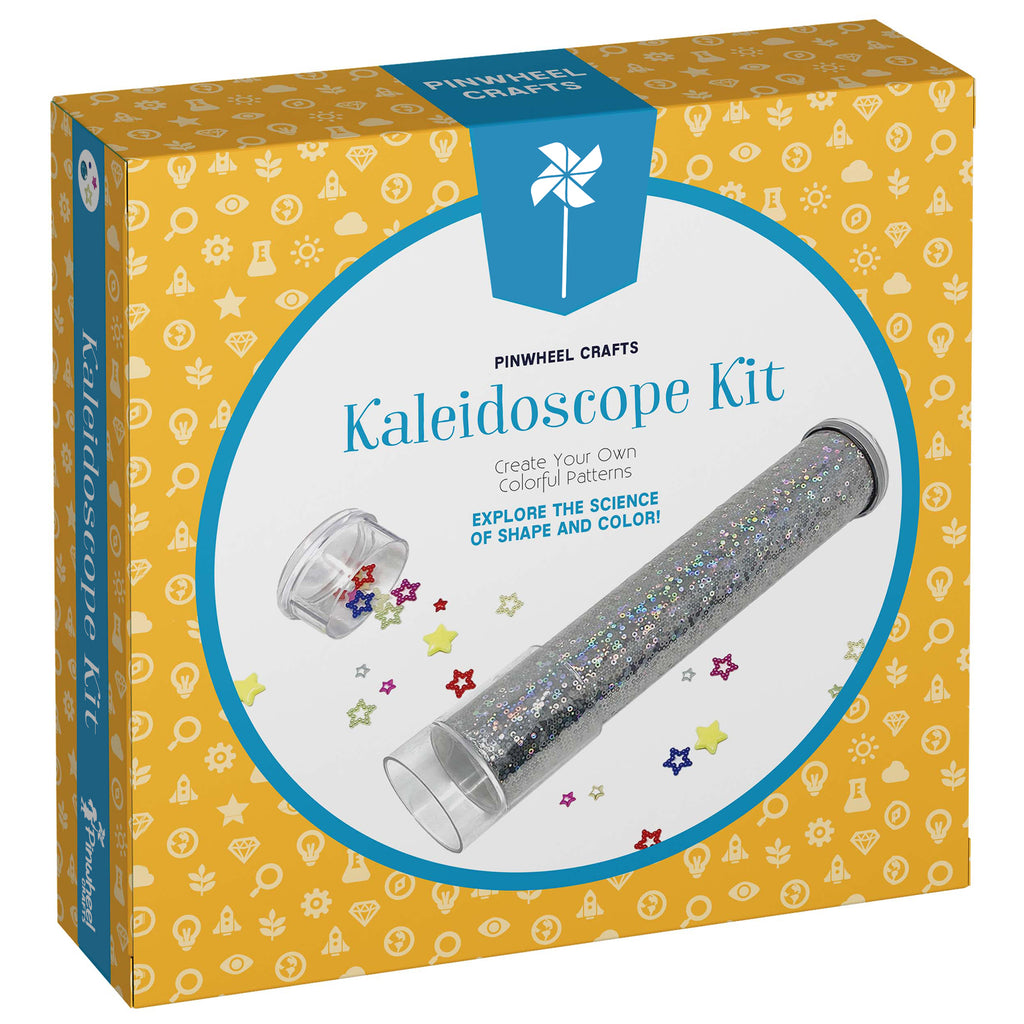 Kaleidoscope Kit
⭐️
⭐️⭐️⭐️⭐️
5.0
4,919 REVIEWS
"My little brother loved the Kaleidoscope Kit. I bought it for us to make it together and have a little bonding time. He was so happy and excited, I am glad that he could have fun while learning and exploring!"
 -Sabrina L.
Verified Purchase
Retail Price: $27.95
Your Price (30% Discount Applied):
DISCOVER THE SCIENCE OF COLORS AND PATTERNS - Kaleidoscopes create magical patterns simply through reflection and movement. Help kids discover an infinite number of unique patterns created from light reflected by mirrors onto colorful beads and gems. We've provided glow-in-the-dark stars that will shine even in low light conditions.
WHAT'S IN THE BOX - Our kaleidoscope science kits for kids include 1 Kaleidoscope Viewing Chamber with screwable parts, 1 Paper Tube, 3 Color Filters, 3 Safety Mirrors, 3 Adhesive Strips, 1 Holographic Foil, 3 Color Filters, Glow-in-the-dark stars, Viewing Lens and Eye Piece, and hundreds of colorful beads and gems for pattern making. We've also included a complete set of step-by-step instructions for easy setup.
SAFE AND FUN ACTIVITY FOR KIDS - Teach kids about the reflection of light onto different surfaces and guide them to put together their very own dazzling light show. Watch their creativity spark as they place all the parts together and pick from among the hundreds of pretty beads and gems provided. Enjoy as they show off their creation to friends and family. We recommend adult supervision to fully enjoy this craft.
EDUCATIONAL SCIENCE TOY TO ENJOY WITH THE FAMILY - We believe that kids learn best when having fun. This easy and fun activity provides a great opportunity to spark curiosity about the science of light, the art of colors and patterns and keeps kids busy for hours away from their screens.
MAKES A GREAT GIFT - Our Kaleidoscope Kit would make a wonderful gift for kids who enjoy arts and crafts activities. A perfect gift for Christmas, Thanksgiving, birthdays, or any other occasion that gives kids something fun to do. Check out the Pinwheel Crafts Storefront for more arts, crafts and STEM kits for kids.
1. 
Start off by grabbing your paper tube and wrapping it with the holographic foil
2.
Put your kaleidoscope together with the necessary items
3.
Choose the beads and gems you want to use
4.
Put the cap on and have fun!
We challenge you to unleash your imagination and embrace your creative side!

Whether for a party, a rainy day activity, or just a way to make memories with your child, crafting is the perfect way to liberate your inner creator.
At Pinwheel Crafts, we believe crafting should be kept simple and be a stress relieving activity. Consequently, instead of scrounging around the house or visiting multiple craft stores to gather supplies, you can find everything you need to create a cute Kaleidoscope in our Kaleidoscope Kit.
This easy and fun craft is a wonderful opportunity to spend some quality time with your family. And encourage some fun time away from mobile devices!
Have Some Fun
Need an activity to keep your kids busy at your next birthday party, sleepover, family reunion or on a rainy day in the classroom? This easy and fun craft is a wonderful opportunity to spend some quality time with your family. And encourage some fun time out from mobile devices!
Spend time with your
favorite person!
This Kaleidoscope Kit from Pinwheel Crafts is a fun way to spend time with the kids to explore and interact.
If your child likes exploring this interactive Kaleidoscope kit will be so much fun.
At Pinwheel Crafts, we are committed to creating simple, hands-on crafts that allow kids to focus on creativity, develop a love of discovery, and learn that fun doesn't depend on wifi access. In fact, many studies show that participating in arts and crafts from a young age can help children develop fine motor skills and gives teens and adults an outlet for stress.
From our origami kits to our glitter slime and our fridge magnets to our pendant jewelry kits, our crafts inspire creativity in kids and kids-at-heart. We challenge you to unleash your imagination and embrace your creative side!
Check out our other DIY craft kits that are similar to the Kaleidoscope Kit!
© Copyright 2022. All rights reserved to Pinwheel Crafts LLC.