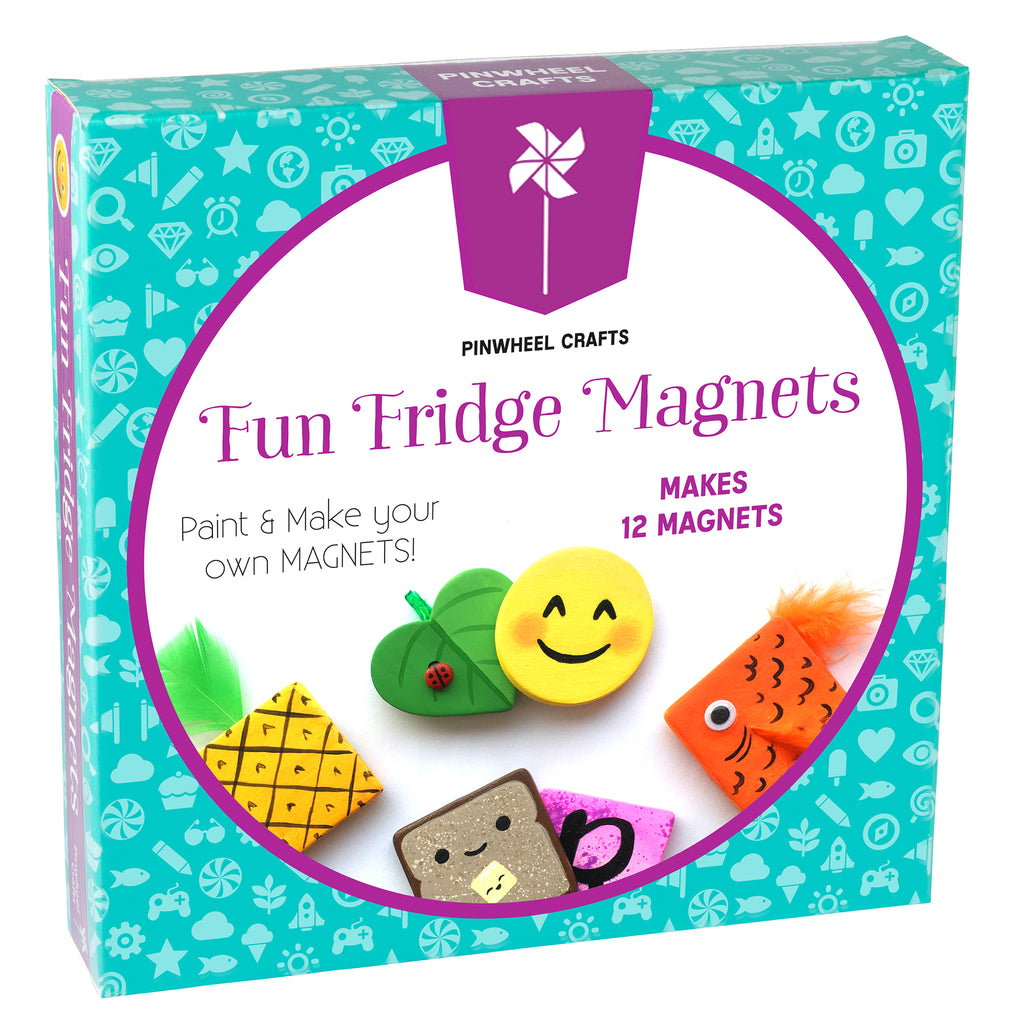 Fun Fridge Magnet Kit
⭐️
⭐️⭐️⭐️⭐️
5.0 
 2,788 REVIEWS
"My kids had so much fun creating paint artwork and then seeing them in the fridge they love it and can't wait to create some more magnets. Excellent set with all tools necessary!"
 -Rose V.
Verified Purchase
Retail Price: $27.95
Your Price (30% Discount Applied):
"I normally never write reviews but this was worth it, with the quarantine driving the kids stir crazy this was by far one of the best little projects we have done! My girls loved seeing their artwork go on the fridge immediately! So much fun!! Makes a great gift for any age that's enjoys crafts!!"

-Jessica H.

PAINTABLE MAGNETS - Use the 8 acrylic paint pots provided to color your magnet or write a message
ADD EXTRA FLAIR - Get creative and attach some colorful feathers or goofy googly eyes to the tile
FOR ALL AGES - A fun art activity for a children's birthday party or for kids crafts and adults to do at home
DIY MAGNET ART- Decorate a fridge or school locker with our customizable self adhesive magnet sets that are perfect craft kits for girls ages 7-12
3 TILE SHAPES - Transform the square, round and heart shaped tiles into some super cool magnets
Fun Fridge Magnet Kit Includes:
12 Ceramic Tiles In 3 Different Shapes

8 Vibrant Paints With Paint Brush

12 Magnets With Adhesive Backing

Fancy Feathers In A Variety Of Colors

8 Googly Eyes In 2 Sizes
We challenge you to unleash your imagination and embrace your creative side!

Whether for a party, a rainy day activity, or just a way to make memories with your child, crafting is the perfect way to liberate your inner creator.
At Pinwheel Crafts, we believe crafting should be kept simple and be a stress relieving activity. Consequently, instead of scrounging around the house or visiting multiple craft stores to gather supplies, you can find everything you need to create a beautiful fun fridge magnet in our Fun Fridge Magnet Kit.
This easy and fun craft is a wonderful opportunity to spend some quality time with your family. And encourage some fun time away from mobile devices!
"This was a birthday gift for my 8 year old daughter, and it was a big hit with both her and her 5 year old sister. I like that it and it came with a lot of magnets in different shapes. I liked the extra googly eyes and feathers. Overall, a fun little kit, good quality, and very entertaining for the kids. I would definitely buy this again."
-Kathryn M.
At Pinwheel Crafts, we are committed to creating simple, hands-on crafts that allow kids to focus on creativity, develop a love of discovery, and learn that fun doesn't depend on wifi access. In fact, many studies show that participating in arts and crafts from a young age can help children develop fine motor skills and gives teens and adults an outlet for stress.
From our origami kits to our glitter slime and our fridge magnets to our pendant jewelry kits, our crafts inspire creativity in kids and kids-at-heart. We challenge you to unleash your imagination and embrace your creative side!
"My granddaughters actually squealed when they opened this gift. The girls and their mother had some close quality time with the refrigerator magnets. Super cute to do with the kids, magnets seem to hold up well. The girls enjoyed painting the tiles and showing them off on the fridge!!"
-Caitlin T.
Check out our other DIY craft kits that are similar to the Fun Fridge Magnet Kit!
© Copyright 2022. All rights reserved to Pinwheel Crafts LLC.